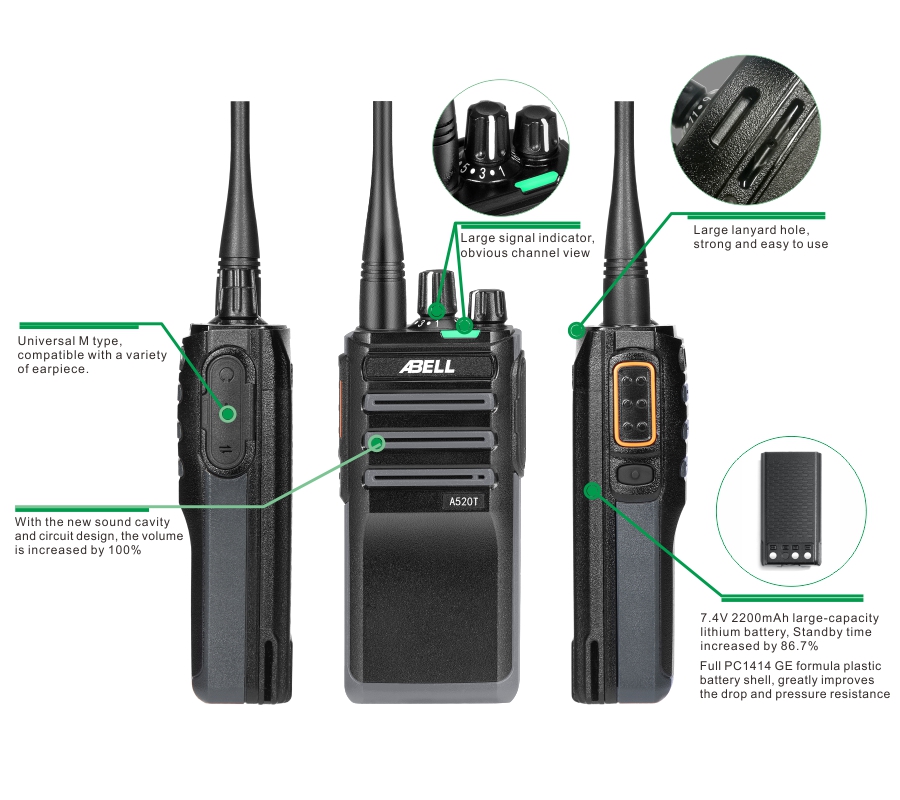 Super Loud, Long Endurance, Short Delay, High Reliability
Super loud

With the new sound cavity and circuitdesign, the A520T has clear and loud voice even in noisy environment, twice as loud as the previous model A520T. (Data provided by ABELL Laboratory)
Long endurance

Low power consumption design, with 7.4V 2200mAh large-capacity lithium battery, standby time is up to 67.4 hours, 86.7% increased comparing with previous, digital 5-5-90 test battery life can be 27.4 hours, 50% improved comparing with previous, easily cope with staff who need todispatch and command for a long time. (The data is calculated according to the general standard formula)
Short delay, quick response

The new optimized circuit design, A520T go online faster, with lower latency, and fast communication without losing words.
High reliability

Full Al-alloy chassis, PC+ABS housing,equipped with a full PC1414 GE formula plastic battery shell, greatly improves the drop and pressure resistance of the radio. IP55 rate improves the rainproof performance.
Dual mode (digital & analog)

Smooth transition from analog to digital.
Voice encryption

Voice encryption and scrambling provide privacy protection for users' calls.
Voice broadcast

Support channel and battery power level announcements, easy to know the current channel number and real-time battery level for timely charging.
TDMA 2 slots at direct mode

2 slots of 1 frequency can be used to 2 talk groups, reduce user frequency application and usage fees.
VOX (hands free)

Specific for users who are not available to push PTT key to talk, with the VOX feature user can activate the PTT by voice directly, without pressing PTT key.